I have been travelling with a buddy, in a group and on my own before. So I know how to make friends and how to figure out stuff to do in a new environment. But working in a foreign city just changed the game. First of all, I am tied up to my work: I have my shifts, the arrangements and meetings inside the hospital. I have my office hours, membership at the local gym and the coffee breaks with the co-workers. This kind of life has its own limitations when travelling and it can affect to the social life.
Thank god I have my Finnish friends that are apparently missing me as much as I am them. Heaps of old friends and relatives has bought tickets to see me. That is a blessing but at the same time I have to make some arrangements with my shifts. My guide nurse has been really understanding and allows me to have also some fun outside the hospital. After all I am also a exchanging student so it is also important to have some fun and travel.
So I have gathered top things to do in Denmark. These are the things that I have found interesting. I have spent most of my spare time at Copenhagen naturally and when my local friend arranged me a rental bike it gave me even more freedom to wonder around the streets of Copenhagen. After all, if you want to be taken seriously you need to own your own bike. That is the main way to travel around Denmark.
I gathered my favorite things to do in Denmark. Mainly one can find the spots near Copenhagen but there are still heaps of nice things to do in the wild too.
DGI-byen
This was the very first place I visited in Copenhagen. DGI-swimming hall is located right beside the Copenhagen main trainstation. It has to be the most designish pool I have ever seen in my entire life: the pool is round! It really feels like it never ends (actually the total length is 100m). One can also get the access to the gym and ping-pong-tables when visiting. And they accept Finnish studentcard! And yes, they have SAUNAS for all those Finns out there who are dealing with the homesickness.
Møns Klint
This place has to be one of the most breathtaking places I have ever visited. Natural attraction that contains 6 km stretch of chalk cliffs along the eastern coast of the Danish island of Mon in the heart of Baltic Sea. One can still find old fossils that used to crawl on the very same beach millions years ago. I haven't ever felt that small, in a good way. Good change from the citylife. It takes around 2 hours with a car from the Copenhagen city center. We decided to rent a car for the day (costed only 27€) and head to southern areas of Sjaelland. It is also possible to take train and a bus to get there but it is actually more expensive compared renting a car.
The freetown of Christiania
This area near Copenhagen center is a great example of people making their own choices. It is a weird "free" area where the cannabis is tolerated (still not legal though). One can skate, admire street art, smoke some bold spliffs on a daylight and just feel the atmosphere of the freedom. I still can't believe that this kind of area exists in a heart of Copenhagen, but one can walk 20 minutes from the center of Copenhagen to get to this autonomous anarchistic district. "You can not kill us!" goes the anthem of Christiania.
Superkilen
In a heart of Norrebro, the most hipster area inside Copenhagen, one can find the heaven for skateboarders. If you still struggle with the balance on a skateboard I'd still suggest you to visit the area, there is still a lot to see and great coffeeshops to visit.
Malmö
It only takes 40 minutes with the train and you find yourself on a foreign country. Malmö has a bad reputation with the burning cars and immigrant problems but I'd suggest you to visit there open minded. The city isn't called the Berlin of Scandinavia for nothing: heaps of vintage clothing stores for driftshoppers, underground nightlife, graffitis and falafel rolls for only 2€. Take your passport with you because the police might check the train before landing. Only police we saw were handing fees to bikers that were riding with their bicycles on a pedestrians way. Apparently the Swedish cops have time to take care of this kind of criminal behavior too on a side of terrorists…
Dyrehaven
Only 20 minutes outside the Copenhagen and one can find freely running deer on a park. Kind of like Seurasaari in Finland, but just change the fat squirrels with the deer and you get the idea.  Dyrehaven is also historical place: dyrehaven is a part of royal hunting lands. Near Dyrehaven is also located the oldest themepark in Denmark:  That's right, apparently Tivoli isn't the oldest one!
Botanical gardens
This place is made for freeloaders like myself. It is actually free to visit the public gardens of Copenhagen. One can also visit the glasshouse which is actually super nice.
Meatpacking district
Every city has its own street food court, also Copenhagen. The food is great but I was a bit disappointed of the atmosphere cause the area didn't look that underground that was told. After visiting the place couple of times I realized that the magic happens inside the building: there are multiple great pubs, bars and restaurants inside meatpacking district.
Driftshopping: Prag, Golden age, Wasteland and Episode
There are a lot of beautiful vintage clothing available at the Copenhagen center and Norrebro. I put my favorite ones on the title. The clothing stores have usually a deal with Red Cross so they get new clothes every day. And th racks are literally filled with beautifully picked clothes! The prices are naturally higher than fleamarkets but it is still worth it to visit these shops. One can also search some fleamarkets: I know that every first sunday of the month Studenthuset arranges fleamarkets for students.
Louisiana
This is a modern art museum of Copenhagen. It is only 30 minutes from the central with the train. When I visited Louisiana there was Picasso's exhibition which was really inspiring. One can purchase the tickets online or at the cashier of Louisiana.
6 Forgotten Giants
This was a nice way to explore the wild near Copenhagen. There are 6 wooden statues that are made of recycled wooden waste hidden near Copenhagen. We started our adventure at the Hoje Taastrup trainstation. I would highly recommend to rent bikes for this one. We managed to find 4 of them and then we run out of time but it is possible to see all of them in one day without the bikes also. There are literally no maps to find the Giants but Google maps helped a lot if you know the names of the art pieces before starting. Every statue has its own name and there is also a hidden hint near every giant (it is written in Danish though).
La Banchina
This has to be my favorite spot in Copenhagen. La Banchina is a terrace near Nyhavn. It is also a nice swimming spot with a sauna! You can get the access to sauna for only 40DKK and trust me it is almost as nice than swimming in a lake in Finland!
Holbaek havn
I have done a lot of yoga on this beach. When I had a day off from work but I was too lazy to take the train to Copenhagen I usually go to Holbaek harbour. There is a small beach with a peaceful seaview. Holbaek started to show me its beauty when spring came to Denmark. It is a harbor city like Hanko in Finland. One can also rent kayaks and sup-boards near the harbor.
Roskilde
Roskilde is not just the home of Roskilde festival. It is also pretty nice and peaceful town at the middle of Holbaek and Copenhagen. I would recommend travelers to visit Roskilde also but it is not the main thing to do when travelling. We had a picnic at the park near the central which was super nice.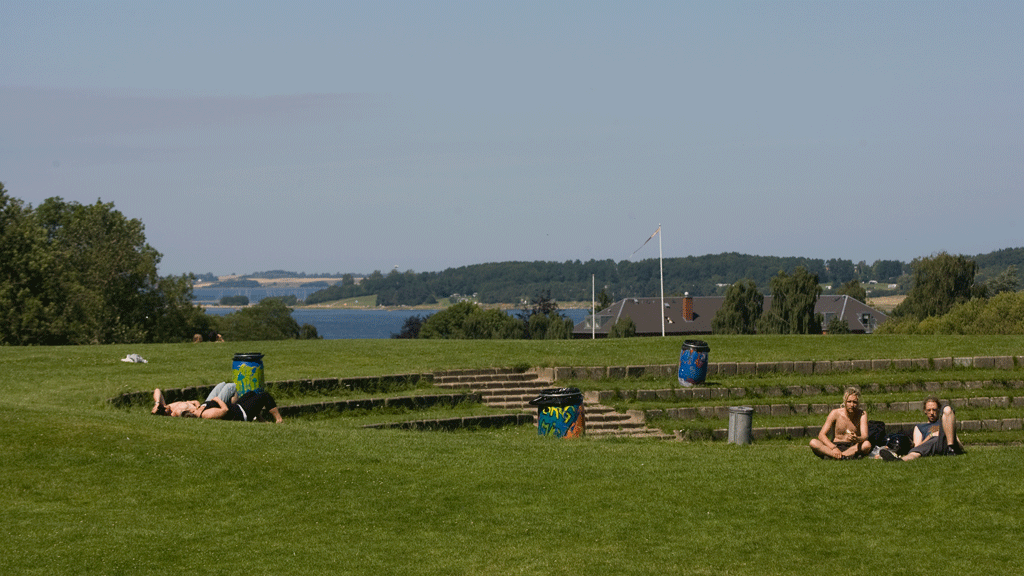 There you go! Hopefully you found some valuable tips!